Northern Health Summit Proceedings Report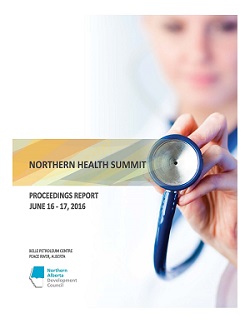 On June 16-17, 2016 the Northern Alberta Development Council hosted a Northern Health Summit in Peace River, Alberta with representation from across the region. This was a unique opportunity for northern leaders to provide input into priorities identified by our partners, Alberta Health and Alberta Health Services. These included Mental Health, Indigenous Health, Community Based Primary Care and Seniors Health-Continuing Care. Information shared during the Summit is now available in the Northern Health Summit Proceedings Report.
*NADC's  Northern Leaders Summit Series facilitates dialogue between northern communities and senior government representatives to address key issues impacting northern communities. Summits' are by invitation and include representatives from each northern community. Additional guests are invited to observe proceedings where appropriate.